Table of Contents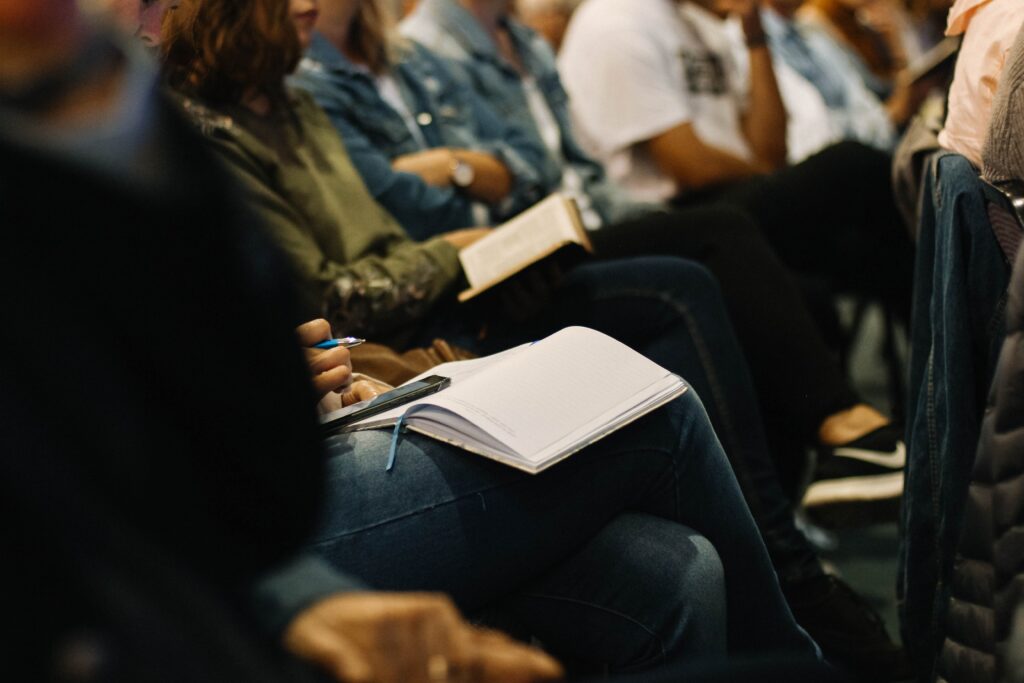 After two years of many virtual events, in-person product conferences are coming back and these events are a great opportunity to level up professionally and network with other like-minded professionals.
A product conference is a window to the latest industry trends; a space to gather insights, bond with other product people, and learn from experts about new technologies and use cases.
We researched the main product management events that will take place in 2023 and came up with a list of the 20 top conferences across the globe to help you identify the best ones for you – whether they are virtual or in-person.
Continue reading for:
Tips on how to choose product events to attend;
A review of 20 product conferences carefully selected;
Product management trends and the latest insights that you'll learn in these events.
How to choose the most appropriate product management events to attend?
Going back to face-to-face interaction after a couple of years is important to our career development and that's the number one reason to choose a few events to attend in person in 2023.
Here are a few tips to choose the best product events to go to this year:
Research the speaker lineup: choose an event with a lineup of product authorities, and people you follow and admire. That's the first step to filtering which events to attend.
Compare prices: check all the prices and packages available to evaluate the best options.
Check out previous reviews: read what people say about previous editions, as it can be a great way to learn what to expect from each event.
Prioritize your career: rank what's important for your career development and learning curve, and pick product conferences with workshops and related panels.
Evaluate the location: pick a location that suits you when it comes to costs and importance.
And in case you still don't feel comfortable with face-to-face events, you may choose events that offer an online option.
Here is a list of top conferences to inspire you, loosely organized by region and date.

Product management conferences to attend in 2023 in the US (and elsewhere)
1. Product World
Product World has a series of workshops scheduled during DeveloperWeek 2023 to cover topics such as product led-growth, design systems, people-first product leadership, UX research, experimentation culture, and so on.
The agenda has workshops, open talks, and keynote speakers already scheduled.
Locations and dates:
Los Angeles: February 15th – 17th
Online: February 21st – 23rd


2. ProductCon
Held by the Product School, this event is perfect for product managers and it has four different editions.
Among the speakers announced are product executives from Mastercard, Google, Deliveroo, MixPanel, and other big companies. They will discuss topics such as diversity and high-performing teams, the future of Product Management, and customer-centric strategies.
Locations and dates:
London: February, 21st! You can still buy tickets to attend it onsite or sign up to watch it online for free
New York: May
Online: July
San Francisco: October


3. Product-Led Summit
Organized by Product-Led Alliance, the summit has 7 editions scheduled in 2023, and the lineups that have already been announced show product experts from companies such as Spotify, Visa, PayPal, Amazon, and Reddit.
The event is a great way for product managers to learn more about PLG strategies and go-to-market best practices. You can already register and buy the early bird ticket.
Locations and dates:
Austin: February 16th – 17th
New York: March 14th – 15th
Amsterdam: May 10th – 11th
Las Vegas: May 24th – 25th
San Francisco: September 19th – 20th
Singapore: November 08th
Sydney: November 01st – 02nd


4. Chief Product Officer Summit
This event is carefully curated for C-level executives and senior management. It's a day dedicated to sharing success stories and challenges.
Among the topics that will be discussed are talent retention, product development, and product and business goals alignments.
Locations and dates:

5. Product Ops Summit
One more event that is organized by Product-Led Alliance and the dates are the same as the Product-Led Summit. This agenda is for product operations professionals.
The speakers' lineup includes professionals from Lyft, GitHub, Thomson Reuters, Zoom, Uber, among others.
Locations and dates:

6. Product Marketing Alliance
This one is specially organized for product marketing managers to discuss strategies and showcase best practices.
Registration is already open for all editions and the agendas include workshops, panels, and lectures. Some of the topics that will be discussed are metrics, the voice of the customer, narrative design, go-to-market strategy, and much more.
Locations and dates:

7. Industry – The Product Conference
Learn from product management and innovation experts about product momentum, leadership, customer-centric products, roadmaps, and more. This event is for PMs and POs.
Locations and dates:

8. Front UX & Product Management
This is a 3-day case study conference for professionals to learn from real situations. The conference is for UX and product management people, who will be glad to watch great speakers specialized in product design and innovation.
The tickets vary from $250 to $700 and the 2023 edition is already for sale.
Location and date:
Salt Lake City: April, 26th-27th


9. Women in Product Conference
This is an extraordinary event because all the speakers are well-known women in the industry and is a great chance to show the power of female leadership and expertise.
The conference is online and it will take place on May 9th and 10th. You can sign-up here for the 2023 edition to enjoy interactive workshops, keynote speakers, and focus groups.


10. Mind the Product
Mind the Product is annually held in San Francisco and London. In 2022, the conference had panels about product systems, customer needs, and robotics. This year's agenda has not been released yet.
The events are good for all kinds of product roles and you can attend it in-person or online. Keep an eye out for the full schedule here.
Locations and dates:
San Francisco: June
London: October


11. SaaStr Annual
The conference is focused on SaaS product managers and it's an opportunity to go beyond networking and great panels. During SaaStr, companies can pitch their business plans to venture capital and investment funds and that makes the conference an oasis for startups.
The event will have over 100 workshops and thousands of mentoring sessions. It's a great conference for executives, leaders, founders, and product directors.
Location and date:
San Francisco: September 6th – 8th


12. Product Leader Summit
This one is very exclusive and if you wish to participate you must apply (and then hope for the best). Past summits have been well evaluated and the last one happened in 2020, virtually.
The goal is to bring together 120 product leaders to learn from each other during workshops, discussions, and networking. Click here for more information.
Location and date:
San Francisco: October 2023


13. Product Tank
Product Tank is a networking community that organizes meetups that became a huge success and it spread around the world. The event's goal is to bring together product people and is organized by volunteers.
The meetups are free, so take a look at the website and find the closest ProductTank to go to. Mind The Product owns the brand, so there is a noteworthy authority behind it.


14. Product Festival
Product Festival is a one-day online conference for product managers. It usually has a lineup of top-level product executives and is well-known for being very informative about trends.
This year's edition has not a date scheduled yet because the 2022 edition just happened in December, so you have time to plan your participation in the next one.
You may also check other events organized by Academy OX, such as Experience Design Summit, for UX designers and strategists.


Product Management events in Europe
15. ProductCamp Europe
ProductCamp Europe is organized by the product community for any professional that has a role in Product. People can choose to be a speaker, volunteer as an organizer, or just be a participant. It's a chance to be close to other peers, learn and grow your networking!
The event is free and you can sign up to learn more about the next edition.
Location and date:
March 2023, the city is yet to be announced.


16. Product at Heart
Product at Heart has a 3-day special agenda:
Day 1 is exclusive for senior product leaders;
Day 2 is dedicated to workshops;
Day 3 is for high-level keynotes.
Among the topics that will be shared in the event are product discovery and OKRs.
Location and date:
Hamburg: June 28th to 30th


17. Productized
Enjoy a 2-day event in Lisbon full of hands-on workshops! The conference is perfect for product managers, UX people, and anyone interested in product discovery and design thinking.
The tickets are available and there's a 10% discount if you use the code mentioned in the FAQ.
Location and date:
Lisbon: October, 11th – 12th

18. Product Management Festival
The Festival has 2 editions: APAC and Europe, in different countries every year. In 2022, the event took place in Zurich. They also released a product management trends report after the conference.
In past years, the Product Management Festival received over 65 speakers and product experts from different industries who shared the challenges of product building, team management, product management techniques, and best practices.
Locations and dates:
APAC: the date has not been released yet
Europe: Switzerland, November 15th – 16th

Other previously mentioned product events that also happen in Europe are:
ProductCon: February, in London;
Industry – The Product Conference: March, in Dublin;
Product-Led Summit: May, in Amsterdam;
Mind the Product: October, in London.


Product Management events in APAC
19. Product Management Summit – India
The Summit is a local event in Mumbai, for the Indian community to share product management and UX best practices.
This is the 4th edition and is great for product managers, product owners, and product marketing managers. The speakers' lineup is full of experts in product development for different industries such as consumer goods, IT and fashion, and retail. See the full agenda here.
Location and date
Another previously mentioned event that also happens in Asia-Pacific countries is the Product-Led Summit, which will take place in Singapore (November 08th) and Sydney, Australia (November 01st – 02nd).


Product Management events in South America
20. ProductCamp Brazil
Well known for being the biggest product management conference in Latin America, the ProductCamp in Brazil is organized by PM3 and brings together a group of experts as speakers.
In 2022, over 1500 people participated to stay up to date with market trends and to learn from more than 30 product and UX professionals from Ambev, Quinto Andar, Orkut, Birdie, and other companies.
Location and date:
São Paulo: December, 5th – 6th

Product Insights and industry trends
The conferences have a few common topics such as customer-centric strategies, design thinking, talent retention, PLG, and product systems. These topics are always important to the success of a product and staying updated about them.
Invest in yourself and attend conferences to take your product knowledge to the next level.
Are you looking for ways to learn more about what your customers think, develop your product intuition, and make more informed product decisions?
Feedback Analytics Platform for a better product strategy
Birdie helps product-centric companies better understand customers at scale to create product strategies to increase acquisition, conversion, and retention.