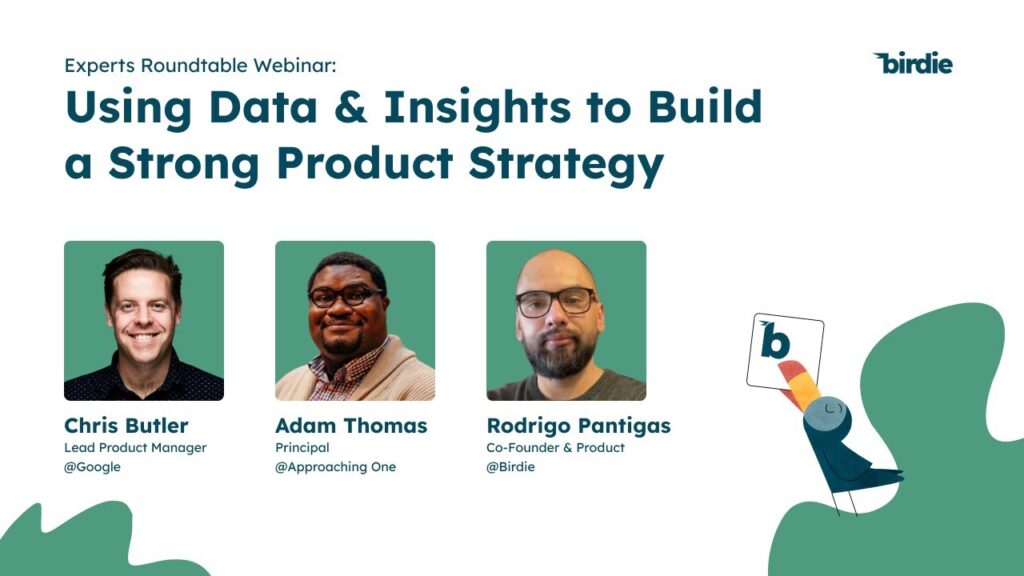 Companies looking to build successful products normally try to capture customer feedback to create products aligned with customers' expectations and to keep learning about ever-evolving user needs.
Establishing a feedback loop is a critical aspect of that as it allows not only supports an organizational culture of continuously analyzing feedback to discover opportunities but also allows them to go back to the customer and let them know that a complaint or request was solved – something that can boost customer satisfaction and loyalty.
But before we go deeper into the product universe, let's understand the customer feedback loop definition and its importance.
What is a feedback loop?
A feedback loop is a process in which the outputs of a system are circled back and used as inputs. This concept can be applied to different fields, including computer science, biology, economics, psychology, and business. In business, more specifically in product management, it refers to using customer feedback to create better products.
In other words, establishing a customer feedback loop is the practice of collecting feedback from customers and acting on it.
Customer feedback can either be positive or negative; both of them are important to your product strategy. Positive feedback loops actively reroute positive outcomes back into the process, while negative feedback loops do the same with negative outcomes.
A negative feedback loop happens when a company listens to customers' complaints and uses that feedback to improve a product, review a product strategy, or perform changes to customer service processes. Many companies fear receiving negative feedback; if a customer feedback loop is established, this fear should be reduced as the users' feedback can be a directional input on redesigning products or services that can help it succeed.
Eventually, positive feedback will also come from satisfied users. It's an excellent occasion to build a closer relationship with these customers and get more information about how they use your product. You can do that by inviting them to a user interview or to answer a survey evaluating their experience with your product. That's an opportunity to enhance user experience and let them know their opinion matters. Satisfied customers will share with others what they like about your product.
Why should your company adopt a product feedback loop?
Building a feedback loop is one of the most effective ways to measure and monitor the progress of a company's overall and product strategy on a cyclical basis. It is a strategic process for product and business management, and it can help companies improve products and services and quickly adapt to market changes.
A continuous feedback loop can allow your company to track its product's lifecycle, make constant micro-improvements to its products, ensure you are making the right decisions when it comes to what to prioritize, support planning the next steps, and, most importantly, allow you to get back to users to let them know that they feedback was not only listened to but, most importantly, prioritized and taken action in.
Product builders many times think what they are doing is the best for the market, but what you build might not be what users want. Collecting user feedback can help your company build better products, and keep your product relevant to users, not only attending to their needs and expectations but also increasing their satisfaction and, according to Khoros, their loyalty for at least 83% of them.
For product teams, adopting a continuous feedback loop means maintaining a constant customer feedback flow from where it's possible to access valuable data not only about customer behavior or buying journey but also about the product itself – turning that into a valuable product discovery process.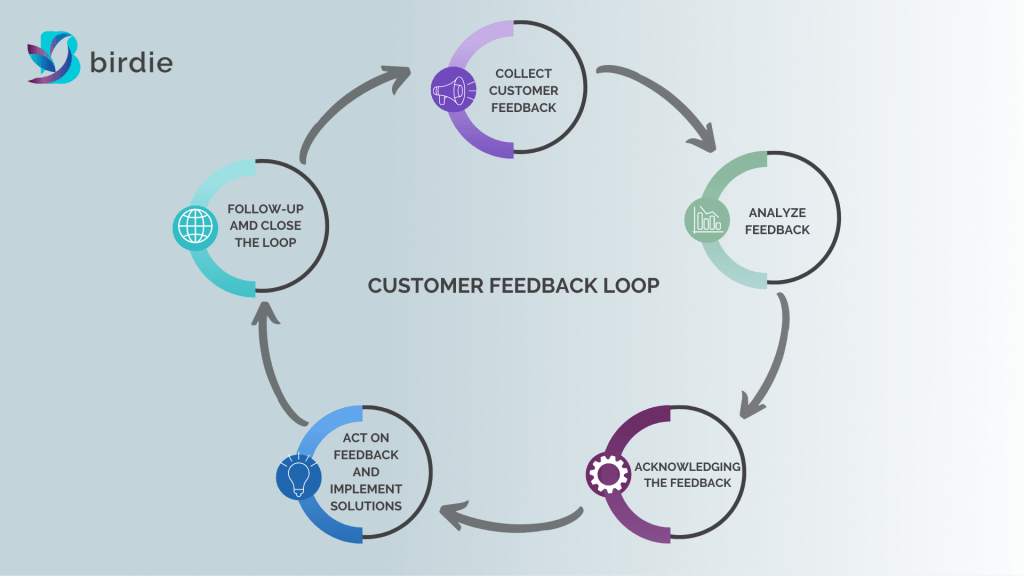 And having access to data is a big thing nowadays. The Economist calls data the oil of the digital era; if a century ago oil was the world's most valuable resource, now data gained the same status. A Mckinsey article about unlocking the value of data highlights that teams using data products, also known as analytic tools, don't have to waste time searching for data, processing it into the right format, and building bespoke data sets and data pipelines.
A product feedback analytics tool can do all of that work, processing the data and generating actionable insights. Further, in this article, we will talk more about how adopting product feedback analytics can help product teams to keep a continuous customer feedback loop.
4 steps to establish a product's continuous feedback loop
The product feedback loop is the process of collecting customer feedback continuously and improving your product based on these insights.
It starts, of course, with the collection of that feedback – you actually can get feedback from multiple already existing sources – to identify existing problems and opportunities. Once you have them, it's time to create continuous feedback loops – these are its 4 key steps:
Build
The flow of building an MVP ( Minimum Viable Product) involves a lot of testing and learning during the process. The goal is to find solutions for the problems and opportunities identified, so in this phase, the product team will invest time testing the hypothesis raised. Your product team can use several processes during the build stage: user testing, prototypes, questionnaires, interviews, etc.
Measure
In this step, you'll analyze whether the goals you previously defined to meet users' needs are being achieved with that experiment or feature. This is where looking at product analytics and analyzing customer feedback starts to make sense.
Learn
With the metrics at hand, it's to synthesize the learnings and check if the hypotheses raised previously are confirmed or need to be modified, generating insights for the next cycle.
Loop
Closing the loop is a critical piece that is normally overlooked. It means making sure that the process starts again, with new ideas coming in to be built and tested, and it also means going back to the customer to let them know you took action based on what they told you.
The loop is also important because your product iterate, pivot, or persevere based on the feedback loop. Iterate means the product will be updated or will undergo minor changes. Pivot means the business will change directions without abandoning previous learning or its product vision. Persevere means that a company decides early in a product lifecycle to continue with the actual business strategy based on experiments and evidence that validate the hypotheses.
Using customer feedback to create the loop
As we mentioned before, incorporating customer feedback into a company's routine can bring several benefits, from increasing sales to changing a positioning or communication strategy. Customer feedback can be especially useful for product teams to identify opportunities that will help create a more effective product strategy and make it easier to decide what stays and what leaves your product roadmap when it comes to priorities.
The Founder & CEO at Notejoy, Sachin Rekhi, said that a product's continuous feedback loop could maximize the benefit of hearing the voice of the customer. For him, a product feedback loop consists in going beyond treating customer feedback as a point-in-time activity to design a system where companies constantly get feedback from customers.
In order to make this happen, a company needs to work around three key elements:
Developing a Feedback River
According to Sachin Rekhi, a feedback river idea is one central place where all the feedback that you're automatically already capturing from your customers is being funneled into one place that anyone interested in the team can access it.
The most common sources where your company can get customer feedback are customer interviews, customer surveys, sales, social media, customer support, feedback forums, in-apps, customer success, and churn surveys. Concentrating on customer feedback from all these sources in the same place will help your product managers develop the habit of regularly hearing feedback as frequently as they would like regardless of the source of origination.
Creating a system of record
Once you are collecting customer feedback, Sachin says you need to be able to aggregate this to start making product and roadmap decisions based on the collective voice of the customer. It is where the feedback system of record comes in.
The idea is to create a highly systematized process such that as new feedback comes in across the various input sources, it is quickly and efficiently processed into the system of record. In other words, it means it's essential to organize and categorize all the data before you analyze all the customer feedback received from multiple sources.
The goal here is to sort information by type and frequency quickly so that you can access the content that interests you without wasting time looking for it.
Synthesizing feedback
The last step is about listening to customers, synthesizing what you're hearing from them, and making decisions that are aligned with your business and goals. It is not about delivering your product all your customers require, but understanding that covers some of their needs and expectations can help you to develop successful products and lead the market.
Synthesizing feedback will help your product team better plan the product roadmap and define what features to prioritize based on a data-driven discussion. The data inputs from your feedback system of record will support the decision-making and give your team a global picture of what customers want, how your product strategy is aligned with their expectations, or even how your business is open to innovation and wants to surprise the market.
An important reminder, customer feedback is just one input amongst many into your roadmap and needs to be equally considered alongside strategic product priorities, highlighted Sachin.
If you want to discover how to centralize, classify and analyze customer feedback in a faster way to create a feedback loop, try Birdie's Feedback Analytics Platform: it will help your product team collect and concentrate user opinions from diverse sources and use AI to quantify these qualitative feedback data points at scale.
Feedback Analytics Platform for a better product strategy
Birdie helps product-centric companies better understand customers at scale to create product strategies to increase acquisition, conversion, and retention.