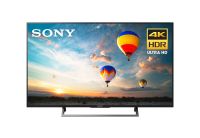 Sony X800E 49" (2017) - XBR-49X800E
Pros
Uses

Mirroring

Security

Battery

Sync

Stereo

Handle

Sensor

Resolution

Design

Image

Weight

Display Resolution

Price

Picture

Picture Quality

Dvd

Service

Set

Reliability

Buy

Screen

Technology

Setup

Accessibility

Durability

Warranty

Netflix

Rate

Smartv

Channel

Tv

Operating System

Build

Size

Internet
Cons
Noise

Defect

Settings

Speakers

Manufacturer

Buttons

RAM

Issue

Output

Source

Browser

Transmission

Accessories
You installed. You refused a replacement. Sony tried to help.
This TV has really bad black levels. Any scenes in games, movies, television shows, online videos, etc. will converge into mushy blackness. Bright images are great. so you're looking at 50/50 in picture quality. My review is 1/5 because of the Sony support that came with this problem TV. I bought t
The Sony rep pushed this tv as the best out there. I'm not satisfied with the picture quality and the smart tv function is a joke. The apps crash daily and some do not work at all. Highly disappointed in this purchase!